Our Benefactor And Friend
A presentation for the Park County Historical Society Park County Sesquicentennial

November 1, 2011

by Douglas Stephens – PCHS Secretary
Grandfather: Edward McGraw
Grandmother: Blanche Clark McGraw
Helen's Grandparents came to Colorado from Michigan to work for the Hallack and Howard Lumber Mill. Hallack and Howard owned the forty acre quarter section known today as Morrow Mountain. Blanche opened the first store in Bailey in 1878. The store building is still here and was most recently opened as the Bailey Country Store.

The McGraw couple bought the land from William Bailey, the settler who gave the town its name. When Bailey established his ranch on the North Fork of the South Platte River, he felt certain that the location was too remote, too inaccessible for the advances (and annoyances) of civilization and the railroad. To his utter amazement the railroad not only arrived in Bailey but constructed its right of way directly through his property, separating his house from his barn. That was insult enough for Bailey who soon left the area selling his property to Edward and Blanche.

Edward died in October of 1880. Blanche married W. A. Morrow in November 1888. Later W. A. and Blanche Morrow purchase the quarter section known today as Morrow Mountain from Park County at a tax sale.

W. A. Morrow dies in March of 1892 at the age of forty-one. Blanche dies in 1918.
Bailey's before the DSP&P Railroad arrived. Source: Park County Local History Archives
Bailey. Early 1900s. McGraw house and store, Kiowa Lodge, bandstand. Source: Park County Local History Archives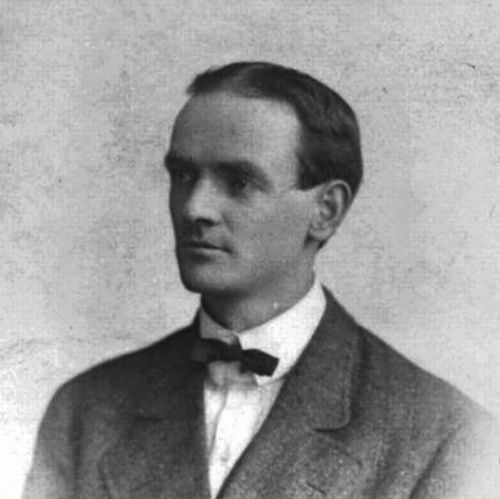 McGraw Family. Alanson Richard (Lance) McGraw, Son of Edward and Blanche McGraw, Born September 25, 1879 in Bailey and died July 15, 1953 Source: Park County Local History Archives
McGraw Family. Jane Mills Skeggs McGraw. Born on June 22, 1881 in Corrinth, Kentucky. Daughter of Charles and Jennie Skeggs. Was assistant station agent in Bailey in 1900. Married Alanson R. McGraw on April 14, 1907. Died March 19, 1932 in Bailey. Source: Park County Local History Archives
From the front page of the Fairplay Flume, April 26, 1907

Married – The marriage at Seattle
Washington, of A. R. McGraw and Miss Jane Skeggs came as a surprise to Canon (1900s spelling of canyon) friends of the genial and accommodating young man who for so many years has acted as manager, postmaster and clerk in his mother's, Mrs. W. A. Morrow's merchandise store at Bailey. Miss Jane Skeggs, with her parents and two sisters, were residents of Bailey six years ago. Later Miss Skeggs filed on the land now known as the Quiner ranch. Miss Janie worked as an assistant with her father, who was then the Bailey C & S agent and operator, and here commenced the attachment which Sunday, April 14, consummated in the wedding at Seattle, where the Skeggs family have lived for several years. Lance is a Canon product, having lived in Bailey all his life with the exception of several years schooling at Fort Collins and a few months vacation in the autumn spent on the Pacific coast. We have cause to be justly proud of him, for he is honest, sober, industrious, clever and obliging. Sincerely he has the good wishes of the whole Canon and vicinity for a happy and prosperous future.
Helen McGraw Tatum
Born April 24, 1911 Bailey CO. - Died December 27, 1995.
The first mention of Helen I found was in the Fairplay Flume December 6, 1912 on page four under the heading Bailey News Notes. Mrs. W. A. Morrow and Miss Edna McGraw entertained at a dinner of pretty appointments on the evening of Thanksgiving. Those who enjoyed their hospitality were: Mr. and Mrs. C. N. Welch, Mrs. J. A. Davies, Mr. and Mrs. Lance McGraw, Miss Ethel Lee Rankin, Master Charles Edward McGraw and Miss Helen McGraw.
Bailey. 1917. Left to right: Mr. & Mrs. Joseph Emerson Smith, Lance McGraw, Helen McGraw, Joe Barnett, others unknown. Bailey School and Kiowa Lodge in background. Source: Park County Historical Society.

Perhaps Blanche McGraw third from right?

Photo courtesy of the Park County Local History Archives.



Bailey. Early 1900s Soda fountain in McGraw store. Helen (with doll) and Charles, children of Lance & Jane McGraw. World War I service flag was made by Mrs. Alanson (Jane) McGraw, Mrs. Charles Fitzsimmons ( Emma) Fitzsimmons. Names (beginning at top then left to right): Bennie Tyler (Shawnee), Howard Bannon (Bailey), Clarence Wilson (Bailey), Marion Campbell (Deer Creek), Edwin Proctor (Bailey), James S. Proctor Jr. (Bailey), Archie Price (Shawnee), David H.M. Strong, A. Lynn McArthur (Shawnee), Elmer D. Knox, George Andrist (RFD Pine), Perry Fitzsimmons (Bailey). Source: Park County Historical Society.

Photo courtesy of the Park County Local History Archives.
Bailey. McGraw residence, Helen Purinton Jones and Helen McGraw, Bailey School. Source: Helen Purinton Jones. Photo courtesy of the Park County Local History Archives.
In an article first printed in the Salisbury, Rowan County, North Carolina and reprinted in the Fairplay Flume on page 10 on August 6, 198(last number not present) under the subheading Bailey Day, Helen tells of her love of the railroad, making the Engine #9 film and her time in the Marines.

Quote Helen, "The Colorado and Southern narrow gauge ran from Denver to Leadville, and it was failing and naturally the railroad wanted to take it out. My grandfather helped to build the track. We got our food, news, everything from the train, it meant everything to us."

"I just loved trainmen, too. All my romantic images and dreams were of trainmen...I would hang over the fence and wait for them to wave at me as the trains went by."

Then about 22, she went to a pawn shop and got a Bell and Howell movie camera and she set out to film the train. Mrs. Tatum filmed the last run of the railroad in April, 1937, but began filming it and other scenes of the town in 1933.

A year after the film was finished, Helen showed it to a Denver convention of railroad buffs, and the president of the National Railroad Historical Society was there. He told her she "just had" to come to the group's national convention in Chicago and show the film – but the group had no funds to pay for transportation.

"I took a thirty-day leave from my job as teacher at the Long Meadow School and bought a ticket to Chicago. I had $7.50 left in my pocket." She stayed in Chicago,
where she sought out train fans to view the film and met Mac Poor, an author who had written a history of the very train she had filmed.

Then in 1942 she decided to join the Marine Corps. "For a kid out of the mountains, it was the best thing I ever did in my life," Mrs. Tatum said. "Why did I join? Well, people used to wonder, my mother wanted me to be a schoolteacher, but I started out to be a theatre organist...I won a scholarship to Loretto Heights College in Denver to study organ. I thought that would just be it, to get to sit up there and play that big organ while the movies were going. But in comes sound pictures, and there're no jobs for a future theatre organist. My mother said to get my teaching certificate that I could always teach."

She did volunteer work until the Marines began accepting women in 1943, when she became one of the first women sworn into the officers program in Chicago. While she was in the Marines, she met Tom Tatum. They were married in 1949, when Mrs. Tatum was thirty-eight.

In the mid 1950s while Mrs. Tatum was stationed in El Toro, CA. she and her husband decided to put sound to the silent movie. Although it had been almost twenty years since the film was made, she wanted the sound to be authentic. She discovered Knotts Berry Farm in California had a steam train similar to the old Colorado and Southern. The film narration was based on Mac Poor's book. The film shows her father cutting ice with a rotary saw and the Long Meadow School, where she taught. In 1961 Major McGraw retired from the Marines.

When her husband Tom died suddenly of a heart attack, memories made it too painful to stay in California. She bought a camper-truck and took off for Bailey. She liked to travel the country meeting people and showing the film. "This film had led me into more crazy places," Mrs. Tatum said. "The children just love it."

She told the children to take pictures of things and write on the back what it is. "Maybe in fifty years you'll have a cat and a camper too," she would tell them.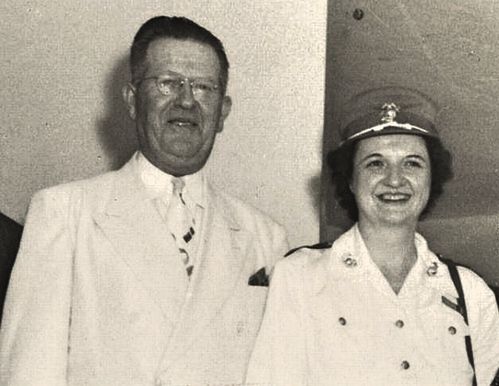 Tatum Family. Helen McGraw Tatum (USMC WWII) and husband Thomas Tatum. Photo courtesy of the Park County Archives.






Tatum Family. Helen McGraw Tatum playing the organ.

Photo Courtesy of the Park County Local History Archives.




Tatum Family. 1999. Helen McGraw Tatum tombstone at Wilmington National Cemetery, Wilmington, North Carolina. Helen McGraw Tatum Maj US Marine Corps World War II Korea Apr. 24, 1911 Dec. 27, 1995. Source: Keith and Treva Clapp.

Photo courtesy of the Park County Local History Archives.
Rest in Peace Helen McGraw Tatum
Our Benefactor and Friend
A Brief Timeline of McGraw Memorial Park
1969 – Helen begins discussions with Harold Warren on preserving Park County History.

1969 – Helen donates McGraw Park to the Park County Historical Society.

1973 – Entriken Cabin moved to McGraw Park.

1973 – Caboose from Colorado and Southern moved to McGraw Park.

1980 – Helen donates 20 acres on Morrow Mountain to the Park County Historical Society.

1983 – Shawnee School moved to McGraw Park.

1985 – Keystone Bridge erected in McGraw Park.

1990 – Annex Building constructed.

1992 – McGlone Cabin moved to McGraw Park.

1992 – Maddox Ice Boat moved to McGraw Park.

1995 – Glen-Isle Way Station moved to McGraw Park.

1995 – Helen McGraw Tatum dies.

2000 – Large Artifact Shed erected in McGraw Memorial Park.

2001 – First Foot Bridge over Crow Creek erected in McGraw Memorial Park.

2001 – Colorado State University's Vision for McGraw Memorial Park.

2009 – Great Outdoors Colorado Grant awarded to Park County Historical Society, Park County, and Destination Bailey.

2010 – 2011 GOCO Grant implemented in McGraw Memorial Park and Morrow Mountain.
Tribute to Helen McGraw Tatum at the McGraw Memorial Park, Bailey, Colorado